Editor's Note: For this press trip, I received a complimentary stay at The Greenbrier, a spa package, and the products mentioned in the credits at the end of this post. All editorial and opinions are my own.
The Greenbrier. This West Virginia gem of a resort is a stunning example of well-preserved history and timeless decor and design. If you follow me on Instagram, you've already seen a few sneak peeks of my adventure at the resort but today I'm over-the-moon excited to share the full re-cap of the press trip I recently took with my husband. When our delightful bellhop opened our guestroom door, I could not help but let out an audible gasp because, well, have a look:
Tell me this isn't every girl's dream bedroom! I felt like a princess ensconced in a wonderland of vibrant cabbage roses. A room has honestly never made me feel as happy as this one did and I can only imagine how perfect this room would be for a bride to wake up on the morning of her wedding day – bliss!
After checking in and getting settled in our room, J&I headed down to the main lobby to meet with two of The Greenbrier's Wedding Coordinators, Whitney Mills and Andrea Garton. The girls gave us a grand tour of the resort including all of the beautiful ballrooms used for weddings and the newly built Greenbrier Chapel on the North Lawn. It was so fun to see all of the gorgeous venues in person. While photos can certainly capture the essence of The Greenbrier, it's honestly so much more impressive seeing it all in person! I so truly wish I had known about this jewel of a resort when we were planning our own wedding eight years ago – I can only imagine the amazingness it could have been! My favorite venue of all has to be the Cameo Ballroom:
After our tour with Whitney and Andrea, J&I enjoyed afternoon tea in the Trellis Room – a delightfully bright and cheery space punctuated by the sweetly crisp scent of fresh hyacinths dotting the room.
After tea, we met back up with Whitney and Andrea to attend a Reception with The Greenbrier's President, Jeffrey T. Kmiec, in the North Parlor. It was wonderful to meet so many lovely people who are truly passionate about the resort – their energy was infectious and made me feel even more excited to be at The Greenbrier! The reception came to a heartfelt close as we all gathered around the piano to sing a collective rendition of "Country Roads" – such an endearing introduction that I'll never forget!
Fun fact: The clock shown above in the North Parlor was featured in an episode of The Bachelorette along with the time-honored tradition of leaving a love note inside the clock. After the show aired, there were so many notes being left that The Greenbrier had to add a box for the overflow.
That night, J&I explored the resort a bit, had an amazing Italian dinner at The Forum (more on that later) and settled in some comfy seats in the upper lobby to listen to glorious live singing. The next morning, we woke up early to catch a bunker tour (during the Cold War, a large secret bunker was built beneath The Greenbrier as a possible hideout for members of Congress. Although it was never used, it was incredibly interesting to tour!).
Essentials to Bring to The Greenbrier
Luggage. Since we were only staying for a weekend, we loaded up our favorite leather and sailcloth duffle bags for light and easy travel.
Shoes. I wore a mixture of riding boots and heels but I think dressy flats would be perfect, as well.
Mix of glam and casual-yet-dressy resort attire. I left the jeans at home for this trip as the ambience of The Greenbrier lends itself to a more polished look. I packed brocade-patterned cigarette pants, raw silk tunics, and a forest-green silk dress.
Jewelry. The pretty baubles I packed from York Design Co. (c/o) and Julie Aylward (c/o) created the perfect balance of prep and glam:
Bag. I usually like to pack an everyday bag along with a dressy clutch or two but for this weekend escape, I just went with the classic Daily Bucket Bag (c/o) from Mark and Graham and it worked perfectly with every outfit I planned. I adore how soft the leather is and the gold foil monogram:
Pajamas. I love being super cozy at night so I brought along the softest pair of Women's Plaid Flannel Pajamas (c/o) from Mark & Graham – seriously the best and I love that they're monogrammed on the cuff:
Want more packing advice? Check out my preppy guide to packing for a winter honeymoon and a spring honeymoon! 😉
Later that afternoon, J&I headed to the resort's spa. I enjoyed the Greenbrier Radiance Facial and J loved his Swedish Massage. It was definitely one of our top favorite spa experiences – from the cheery relaxation rooms to the amazing staff, we both felt like brand new people after our visits!
After the spa, we decided to take a dip in the gorgeous indoor pool. We swam until we were shriveled-up prunes. So much fun!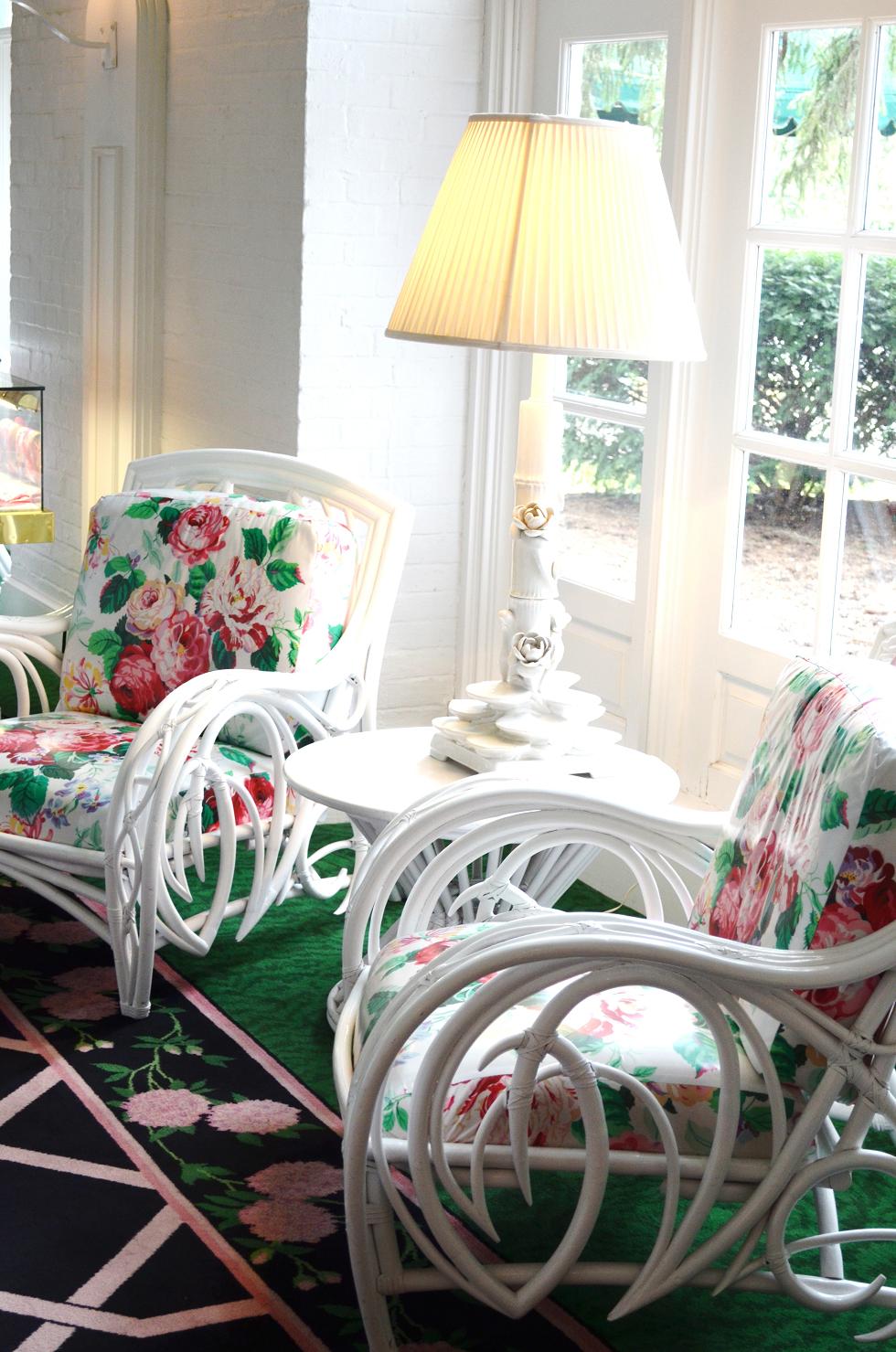 Essential Activities For The Greenbrier
Spa & Pool. As I just mentioned, the spa and pool are top-notch and it would basically be a tragedy if you missed out on these during your stay. Block off an afternoon to get pampered at the spa and take a few laps at the pool. We didn't make it to the outdoor pool but I hear it's just as lovely!
Bunker Tour. If you're a history buff, this will definitely pique your interest. You can make reservations before you arrive and sign-up is in the Trellis Room.
Afternoon tea. This is a fun tradition at The Greenbrier that you don't want to miss. Every afternoon at 4p, hot tea and iced tea is served in the upper lobby along with a continuously stocked table of treats (make sure you try the peach tarts – the peaches are local and house-prepared!)
The Forum. This Italian restaurant at The Greenbrier made J&I feel like we were back in Italy. The Caprese salad had the creamiest burrata ever and their wood-fired pizzas were amazing!
Sing Song. Every night, there is live singing in the upper lobby which includes a mix of modern and classic tunes. We had so much fun relaxing to the beautiful music.
Champagne Toast. Every night at 10p, there is a champagne toast in the casino as dancers swirl around the double staircase to a waltz. Magic!
Excursions. The resort offers a ton of amazing experiences for guests including falconry and off-road jeeping just to name two! Make sure you check out the full catalog of things to do!
I hope I was able to give you a glimpse of just how fabulous The Greenbrier truly is and I hope you plan your own trip (or better yet, wedding!) to the resort soon! If you'd like to know more about weddings at The Greenbrier, check out my previous post on the subject or contact The Greenbrier Weddings Team by e-mail at Weddings@Greenbrier.com or by calling 304-536-7897.
Credits: York Design Co. Elephant Cuff, Martha's Vineyard Cuff and keychain (all c/o) | Julie Aylward bracelet, earrings and ring (all c/o) | Mark and Graham Women's Plaid Flannel Pajamas & Daily Bucket Bag (both c/o)
Photography by Sarah Darcy of Classic Bride blog.