Editor's Note: For this press trip, I received a complimentary stay at the Woodstock Inn & Resort. All editorial and opinions are my own.
If you've been following Classic Bride blog on Instagram, you probably saw a few sneak peeks of our recent stay at the elegantly cozy Woodstock Inn & Resort. I'm so excited to share a more detailed look with you today because not only is this resort a wonderful place to escape for a weekend but it would be an incredibly dreamy venue for a New England wedding and/or honeymoon.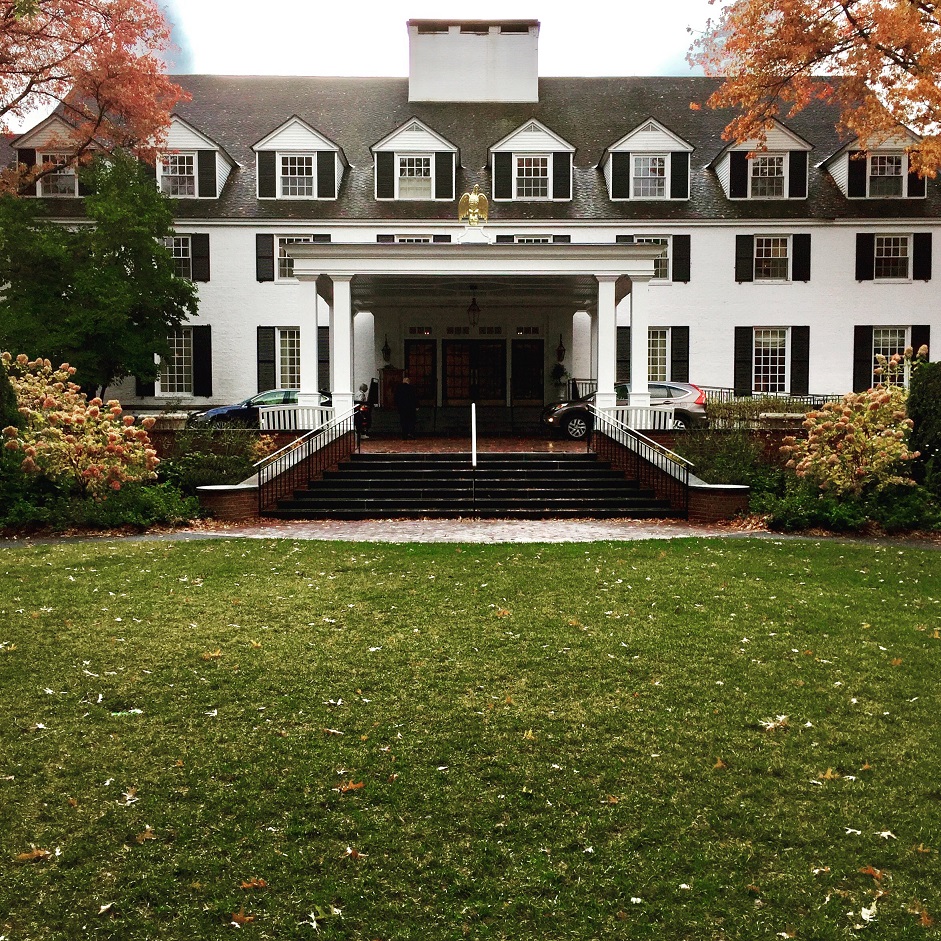 Lauded as "Vermont's most beautiful address" (and I think you can see why!), this year-round destination nestled in the stunning Green Mountains of Vermont embodies the history, culture and heritage of New England to perfection. It's situated right next to the quaint downtown of the bustling little village of Woodstock which offers an impressive selection of gourmet eateries and darling boutique shops.
A true reflection of Laurance and Mary Rockefeller's vision, the Woodstock Inn & Resort fully embodies Vermont's timeless craftsmanship from wood-beam bed frames to hand-dyed blankets. I personally love that the resort also claims Kelly Way Gardens, an in-house farm which produces much of the food and florals used throughout the resort's facilities including their farm-to-table restaurants like The Red Rooster. I was lucky enough to be offered a private tour of the gardens during my visit which also boasts a breathtaking wedding ceremony venue overlooking the mountains. I'll be sharing more about Kelly Way Gardens and the available wedding packages that the Inn offers in a follow-up post so stay tuned if you're thinking this would be a perfect spot to wed!
Our third-floor suite in the Main Inn exuded signature Vermont style and immediately made us feel cozy, comfy and oh-so-restful. I think my favorite part of our room was gazing out the windows to a view of fall splendor. I just couldn't get enough of those autumn-speckled mountains. And, on a side note, I made a mental note that one day J will need to install custom wooden shutters on our home's windows like the ones at the Inn – they're timeless, gorgeous and practical. W liked them, too – he must have opened and closed them a million times while we were there!
After checking in, we couldn't resist a stroll through the village of Woodstock which looked like it could be straight out of a movie. It really is that picture perfect!
I planned this Vermont getaway as a surprise for J to celebrate our 9th wedding anniversary and in turn, he surprised me with a new anniversary band of sapphires (W's birth stone!) and diamonds.
We ordered room service each morning for breakfast and I have to say it's even better when you have a 1-year-old because it makes the mornings so much more seamless – we were out the door and exploring in no time.
My biggest tip if you visit is to take time for long leisurely drives. The area in and around Woodstock is honestly some of the most beautiful land I have ever seen. I kept telling J "this is even prettier than northern France!" (my gold standard for perfection, haha). The views really did take our breath away and I caught myself imagining us dropping everything and moving to Woodstock … well, maybe when we retire!
We had a late lunch one day at the resort's Red Rooster restaurant, a AAA Four Diamond-rated dining experience, and it certainly lived up to the hype. If we had been staying another day, we would have returned and ordered the exact same thing – it was that yummy!
I always love when resorts offer a traditional tea time and the Woodstock Inn did not disappoint. Every afternoon between 4 and 5 p.m., tea and freshly baked cookies were offered in the Inn's conservatory which overlooks the flawless south lawn.
Another day we ventured over to nearby Plymouth, Vt., and to Quechee Gorge Bridge – both beautiful spots!

I hope this post gives you a glimpse of just how cozy and wonderful the Woodstock Inn & Resort truly is and I hope it inspires you to plan a getaway, honeymoon or wedding at the lovely venue. And don't forget – a special blog post all about weddings at the Inn is coming up soon!
Photography by Sarah Darcy of Classic Bride blog.